Bridal Bootcamp Wellness Coaching
I love working with brides! Let's work together to make your wedding vision come true! We will navigate through your engagement journey and help you manage your stress and make healthy, sustainable lifestyle changes that will benefit you long after your wedding day! Dance Corps embraces wellness and balance in one's life, and I encourage sustainable, healthy changes for your success and happiness.

I believe all women are beautiful the way they are, and I also healthily help brides achieve weight loss goals for their wedding day in a way that promotes healthy weight management beyond the day they say "I do"!


Virtual Wellness Coaching will run over
3 months
or
6 months
:
Wellness Coaching for Brides
1x60
Health Assessment session to help you set SMART goals, assess your personal food log and nutrition habits, set your healthy ideal weight range, and more! | 3 Month & 6 Month Program
12x30
Coaching sessions to create, assess and put into action your personalized Bridal Bootcamp Wellness Plan | 3 Month Program
20x30
Coaching sessions to create, assess and put into action your personalized Bridal Bootcamp Wellness Plan | 6 Month Program
You also receive:
Access to Dance Corps workouts (Savings!)
Nutrition coaching for wellness
Assistance with a workout program plan to meet your individualized goals
Meditation/Breathing/Stress management videos for stress relief
Stress relief techniques to help during the up's and down's with wedding planning
Timeline for tasks to your wedding day to help alleviate stress
Budget template for wedding planning
Support from other brides and Dance Corps subscribers as a member of the DC Dance Crew
Schedule your one-on-one complementary Initial Consultation NOW!
This consultation will allow you to meet me and: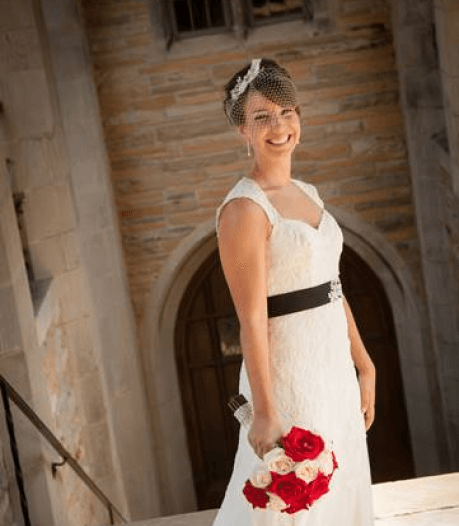 ABOUT MY PASSION FOR BRIDES AND WEDDINGS:
I married Tom August 25, 2012, at Church Street United Methodist Church in Knoxville, TN. I absolutely loved every aspect of planning my wedding, so much that I explored the idea of wedding planning after my wedding had ended! I bring my excitement for wedding planning and my experience planning my and my sister's weddings to the table to assist brides with planning concerns they may have. I believe in balance in life to feel my best, and I will share tips and techniques that are best suited for you for self-care during this busy and exciting time in your life!
Some days you can find me watching Say Yes to the Dress from TLC at home! #favoriteshow #weddingdresslove