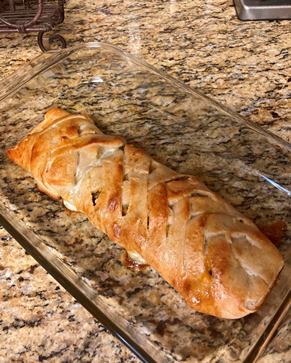 Sausage, Egg, & Cheese with a lite twist! This breakfast delight is a crowd pleaser for get-togethers and tastes great for any time of the day! It is kid-friendly (if you take out the jalapenos). Pair with your favorite fruit or veggie for a side dish if desired!
6 servings (serving size: 1 slice)
Optional Side Dish: Fruit or Vegetable of your choice
Ingredients:
1 (13.8-ounce) can refrigerated pizza crust dough
Cooking spray
1 tablespoon olive oil or canola oil
1/4 cup onion chopped
4 ounces turkey sausage (I prefer the Jimmy Dean Fully Cooked Turkey Sausage Crumbles)
2 large eggs (use a fork or whisk to lightly beat the eggs)
1/2 cup Monterey Jack cheese (shredded)
1/4 cup cheddar cheese (shredded)
1/4 cup jalapeño peppers (chopped & seeded). I always leave these out of my braid, but you can add them in if it suits you!
1 large egg white (use a fork or whisk to lightly beat the eggs)
Directions:
Preheat the oven to 425 degrees Fahrenheit.
Unroll dough onto a large cutting board coated with cooking spray.
Use a rolling pin to roll dough into a 15 x 10–inch rectangle.
Heat oil, onion and turkey sausage in a large skillet on medium heat. Cook 9 minutes or until meat is slightly browned. Stir in eggs and cook approximately 1 1/2 minutes.
Add Monterey Jack cheese down the center of dough, keeping a 2 1/2-inch border on each side. Scoop egg/onion/sausage mixture and add evenly over cheese. Sprinkle cheddar cheese over top; Add jalapenos over top if desired.
Using a knife, make 2-inch-long diagonal cuts down the breakfast braid on both sides. These cuts will be about 1 inch apart from one another, so you will end up forming 1-inch 'strips' that you will criss-cross over each other. Each cut will end about ½ inch from the filling. Criss-cross strips over egg/sausage/cheese mixture. You can either tuck the extra dough that is left over under the breakfast braid, or cut off sections and leave them off your braid. I always have some excess dough left over! Brush the braid with the one egg white. Bake the braid at 425° for 17 minutes or until top is golden brown. Let stand to cool before eating. Cut braid into slices and enjoy!
Nutritional Info
Servings Per Recipe: 6
Amount Per Serving
Calories: 276.4
Total Fat: 11.4 g
Cholesterol: 135.9 mg
Sodium: 591.6 mg
Total Carbs: 32.0 g
Dietary Fiber: 1.2 g
Protein: 12.2 g